Louise Crnković-Friis
Multidisciplinary Artist, Choreographer, and Researcher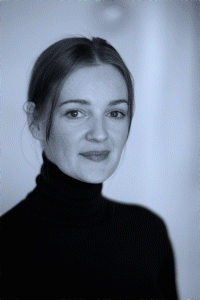 My work is nestled within the convergence of somatic practice, machine intelligence, and neurodiversity. With a Master of Fine Arts in Performative Practices from Stockholm University of the Arts, my exploration treads along the realm of what I call 'extended ontology', broadening the narrative around "reality" by considering intelligence beyond the neurotypical human realm.
My choreographic research works, such as "REBE – a case for extended ontology" (2019-2021), "AI and I" (2019) at the NRW Forum in Düsseldorf, and "Artificial dance" (2017) at the IS4SI summit in Gothenburg, mirror a deeper engagement with artificial intelligence (AI). This engagement challenges the conventional boundaries, positioning AI not merely as a tool, but as a manifestation of a distinct form of intelligence, opening new corridors for artistic practice and questions.
My own ADHD and my son's Autism have been a source of drive and inspiration, broadening my understanding and informing my work in 'extended ontology'. These personal intersections with neurodiversity have propelled a deeper interest in the diverse spectrum of cognitive experiences and both the ontological and epistemological questions they raise.
Alongside choreography, my academic and public discourses have been a space for me to exchange ideas outside the traditional artistic context. Notable instances of this discourse include the presentation of my paper, "Generative Choreography using Deep Learning," at the ICCC16 conference in Paris (2016), and a discussion on "Art and AI" at The Science Festival in Gothenburg (2019). Furthermore, the BBC Science Podcast (2019) kindly featured my work, giving it a wider audience. I've also had the privilege of delivering a keynote talk on "Dance and AI" for The Artists' Association of Sweden (2019). More recently, in 2023, I was invited to share my perspective on the interplay of AI in choreography and artistic practice at the WIPO Conversation on Intellectual Property and Frontier Technologies.
Throughout my career, I've been committed to engaging with the artistic community in a way that isn't just about fitting in, but about opening up new paths. My aim has been to invite and include those who aren't often seen or heard in traditional artistic spaces. I've co-founded and participated in various collective initiatives such as Mrs. Miller co, The Lulu Art Group, and both the Senior and Youth companies at Choreographic Center Archauz, with the intent of broadening the spectrum of voices on stage.
In my roles, ranging from Chairman of Maximum Spaces in Stockholm (2015-2017), Artistic Director for The Lulu Art Group (2011-2019), and Elected Member in Godsbanerådet for Godsbanen in Aarhus (2011-2016), to my involvement with the Choreographic center Archauz in Aarhus, Denmark (2010-2011), Styregruppen in Scenekunstnetværket region midt (2010-2011), the EU-network Départs (2010-2011), Archauz U- Kompagniet (youth company) (2008-2010), and the company thenobco (2007-2009), I've consistently sought to challenge the status quo.
The belief that everyone can participate and contribute has been central to my work. Through these roles and initiatives, I've strived to foster a more inclusive artistic environment where we not only appreciate diversity but actively seek it, enriching what is represented on stage and how we understand the world of art. Through roles such as a mentor at the Kvinfo Network since 2010, I've aimed to contribute to the emerging artists and thinkers and equally learn for them.
My engagement with AI and neurodiversity serves as a conduit to delve deeper into the complexities of intelligence, allowing a journey into the liminoid spaces where human and machine, tradition and innovation intersect. I am interested in a broader discourse around intelligence, perception, and artistic expression in an era where we from different directions revaluate established norms and systems.
Louise Crnkovic-Friis, 2023