Louise Crnković-Friis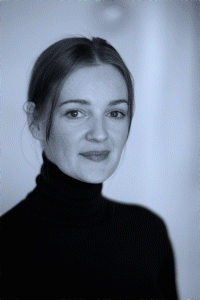 Louise Crnkovic-Friis works within the intersection of somatic practice, machine intelligence and neurodiversity. She explores the various ways and types of intelligence(s). Her current practice is performed through the collaboration with a multimodal AI´s doing generative choreography, writing and semantic style transfer – contrasting and integrating it through the lens of neurodiversity. The ultimate expression is multimodal and can take shape as visual, textual, choreographic or somatic. Related to her cross-disciplinary practice she is co-author on a published the scientific paper "Generative Choreography using Deep Learning".
Previous works include taking the roles of:
The Artistic Director (at Choreographic Centre Archauz where she was a partner in DÉPARTS, Movement Research and Dance Roads),
The House Choreographer (under Gran Theatre for dance),
The Choreographer (under DÉPARTS, a EU network with 12 organizations within performing arts lead by PARTS).
The Founder of dance-related companies (Aarhus-based dance company, Mrs. Miller co. and The Lulu Art Group, U-company and S-company).
The Dancer working for over a decade in different constellations.

She is also present as a Mentor in the women's network Kvinfo. 
Crnkovic-Friis studied at Stockholm University of the Arts, Balettakademien in Stockholm and in the Free youth education in the field of visual art and dance in Denmark.

Choreographic Showreel 2006-2012
Dance reel, selection from professional career 2002-2010